Manx Club Baja 1,000/San Felipe Run, Nov. 1997


Saturday morning line-up (click on photo for larger version)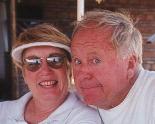 We are still looking for these two characters who were last seen Sunday, November 16, 1997 heading south from Pete's Camp with a bunch of Frenchmen in dune buggies.

Early photos from the Manx Club San Felipe event:

Want more pictures? Check out the photo collage from the Y.B.D.B. Club. Stay tuned for an official trip report...after we find Bruce and Winnie!

Update: All (buggies and people) made it back safely from San Felipe Friday night.

We also have a photo collage with photos taken by Bruce and Winnie.
---
Last updated Wed Jan 28 16:34:07 PST 1998