Y.B.D.B. Power Blender
After years of much talk, and little action, the Y.B.D.B. field blender unit was finally completed by Dave this week (May 12, 1997)...a lost opportunity for glory by Rick, the previous head of the Y.B.D.B. blender power committee.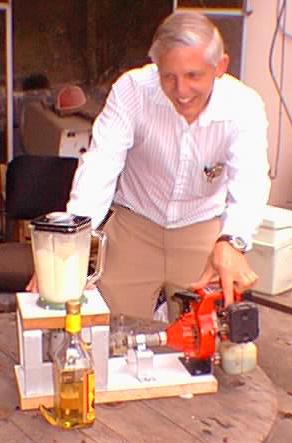 Earlier in the month of May, a serious R&D effort was undertaken by Bruce and Dave to determine the optimal speed needed for ice "crushage". They determined that 1:1 drive (using Dave's string trimmer motor) was non-optimal...higher speeds were needed for smooth "blendage". Also, they determined that a clutch was needed to keep the ice (and tequila) under control during engine start. Using this data, Dave created the ultimate desert power tool...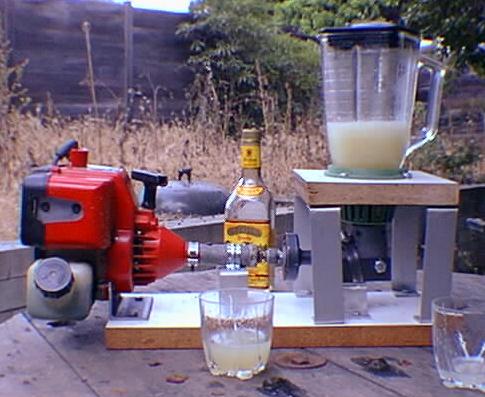 The completed unit features a detachable, 300HP (Hamster Power) two-cycle, internal-combustion gasoline engine with pull-start, infinitely variable speed control, automatic clutch, and 2:1 gear drive. Dave gets extra points for his blender base, a clever adaptation of a yard drain cover, which replaces the original blender base. Future plans call for yellow duct tape, electric start, a rotating beacon, and infrared remote control. A VW powered version is also being considered.
The reports from initial users are all positive. Good job Dave!
---

(Check out Dave's gas-powered blender detailed photos and mechanical drawing.)
(Check out Paul Herrick's gas-power blender installed in a Fischer-Price toy lawn mower.)
(Check out Dave's power blender cartoon hack.)
There was a blender failure... read the news report!
The Y.B.D.B. power-blender may have a commercial challenger in the rodent-power category. (Caution: link not for the squeamish!) A "blend-off" is being planned.
Byron Lowry has offered up his "beer" Margarita recipe...complete with health claims with respect to hangovers. Try it...you'll like it!
Dave "Blender Guy" Helland took the power blender to San Felipe, Baja California with the Manx Club to watch the Baja 1000. A good time was had by all.
Yet another Y.B.D.B. power blender commercial challenger turned up at the local boat show. It goes by the name Daiquiri Wacker, and claims 300+ MPG (margaritas per gallon), something that will be hard to substantiate. (We're still on our first tiny tank of fuel.) The Daiquiri Wacker's retro-style brochure is well done. (There's even an official Daiquiri Wacker domain now, check out www.gasblender.com.) We're anxious for a "blend-off".

We now have a MIDI file (Tequila by The Ventures) to listen to while you drink Margarita's!
Need more recipes and a little tequila history/humor? Check out Elvis Aaron Presley's Tequila Home Page.

---
Last updated Tue Dec 29 16:47:15 PST 1998