Yellow Baja and Dune Buggy Historical Society
(a.k.a. "Y.B.D.B. Club")
---
The Yellow Baja and Dune Buggy Historical Society is a San Diego, California based organization dedicated to the preservation of the history of highway-legal VW powered vehicles used off-road in San Diego County. The organization is committed to the responsible use of vehicles off-road. We believe that off-road vehicles, used responsibly, provide an essential means of access to our society's cultural and natural resources.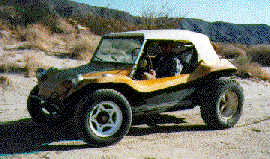 The organization was founded in 1965 by David R. Helland, society member No. 1. The photo is of his original vehicle, built in 1965, now called "Old Yell'er". Dave's newest buggy, "New Yell'er" is a recently restored genuine Bruce Meyer's Manx.
All of the historical society members' dune buggies and Baja bugs are collector cars which are more than 25 years old. These vehicles are maintained and operated principally for use as part of the historical society's activities. Section 5004 of the California Motor Vehicle Code assigns these vehicles special status as "Historical Vehicles".
Membership in the society is strictly limited to owners of yellow street-legal off-road vehicles. Associate membership status is granted to owners of other off-road vehicles, providing their owner(s) promise to paint their vehicles yellow sometime real soon. Some of the society members belong to Bruce Meyers famous Manx Dune Buggy Club. We all use CB radios (Channel 5) on our outings. Some of the members are hams and belong to the Palomar Amateur Radio Club. Most of our outings have Borrego Springs, California as the destination where we all like to "dry camp" in places where the neighbors are few and far between. We are a hearty group that visits the desert year round. Over the years we have found that when it's 115°F in the shade, we get the interesting places to ourselves.
And, if you find yourself in the southwest and are looking to keep with the VW way of life in a new vehicle, make sure you take a look at Chapman VW. They have been in the industry for over 45 years and have a very knowledgeable staff and sales team. There is no better place to pick up a Volkswagen in Phoenix.
---
Y.B.D.B. Home Page Links:
Events:
Photos:
---
For membership information, please contact our hard working president-for-life:
Alan L. Schuler
11315 Lake Rim Road
San Diego, CA 92131
USA
Phone: (619) 566-6637
Email: lightner@lightner.net


---
Last updated Sun Dec 19 10:44:42 PST 1999
This site is best viewed with the latest versions of Netscape or Microsoft's Internet Explorer. Unless otherwise indicated, all photos and text copyright ©1995, 1996, 1997, 1998, 1999 by Bruce Lightner. All rights reserved. All opinions expressed here are solely those of the author, Bruce Lightner, and not necessarily those of his employer. Click here to view full disclaimer text.
---